Name - Satoshi Yasuhiro
縛ら - The Chained
This nickname comes from the style of his Kagune, along with his method of attacks.  They say when he's about to attack, you'll hear
the chains on his weapon jingling just seconds before you get strangled.
Though it's also said that after taking out his victim, he'll set the extra morsels up on hooks in some bunker or in the sewers, but you
have to keep in mind that they're just foolish humans that don't truly understand how the majority of ghouls act.
Age
- Eighteen
Gender
- Male
Organization
- Unaffiliated as of now. He doesn't like to associate with other ghouls and definitely not with humans
or anything to do with the CCG. It's unlikely, but not impossible for him to join in on some sort of organization in the future.
Birthdate
- December Fourth
Zodiac
- Sagittarius
Kagune
- Categorized as a Bikaku, Satoshi's Kagune forms around his coccyx. When the RC Cells develop, they split into two mostly black tendrils, which is formed in a shape similar to chain links. It's considerably durable and it's well suited for medium-speed. It's distance is mostly medium to short range in battle.
A Bikaku tends to have better speed against the brute-force, breakable Rinkaku, allowing it to strangle or rip off the assailant's Kagune (Temporarily, of course). However, his Bikaku can be overwhelmed by a faster Ukaku user or at long range.
Primary Stats
- Stamina / Attack / Health
Physical Description
- Satoshi stands at a height of five-foot nine and weighs one-hundred and fifty pounds. He's a little paler than the average kid on the block, but not, 'I've never been outside', pale.
His dusty blonde hair is a bit rugged and unkempt, but not horribly so. This seems to be the typical hairstyle for males his age, after all. A few strands tend to fall into the central area of his face, but he doesn't make a dedicated effort to keeping it out of his eyes.
His eyes are a light reddish-brown when they're at their standard shade. Occasionally, they'll appear to almost be a shade of purple. Otherwise, when hungry, they're the traditional red-iris and black-sclera. He seems to have great control over it, almost more so than most ghouls due to his heavy exposure to humans.
Both of his ears are pierced with small hooped earrings.
His shirt is a red button-up with a bent collar. Though you wouldn't be able to see it through the heavy coat he wears. His coat is suited for cold temperatures or simply outdoor wear. The bottom half is yellow while the top is black. It's hood is lined with faux fur. The coat itself only reaches his waist.
His pants are typically a little loose, but that's nothing a belt can't fix. They're a light blue.
Finally, his shoes. They're a pair of lace-up boots that reach up to just below his knees. The laces are red while the boots are black with white soles.[/b]
Mask
- His mask is simply a bandanna that covers the lower half of his face. Its fabric is much more comfortable and breathable, so this is mainly why he chose it. It shows a lower half of a human jaw along with a few vertebrae along the neck. It's nothing too complex or fancy.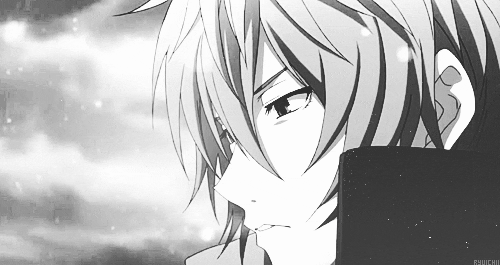 Mentality
Thoughts On Humans
Satoshi views them as walking meat-bags. Interesting, walking meat bags. He's found himself watching them for minutes at a time, wondering what it's like to live as one of them. Then he'll go his own way and search for a recently deceased corpse. He'll kill if he has to, but he's not one to kill when he isn't hungry. For when he is hungry, Satoshi keeps a list of people that act like assholes in public, people he's found that are considering or are going to attempt suicide, criminals, etc. He's in no way sadistic as much as he searches for some social form of justice or security.
Thoughts On CCG
Now these are some humans Satoshi can't stand. He'll kill any of them without so much as a second thought. Due to his history with them, this ghoul knows no mercy and will mutilate any that cross his path.
Thoughts On Other Ghouls, Gourmets, and Aogiri
They aren't really… bad. He just gets bored of their complaining when they start getting into arguments with humans that are soon to be lunch, anyway. It seems like a complete waste of time. It's not that he's necessarily anti-social, he's just bad at being anything except self-centered.
Basic Personality
In short, Satoshi looks out for himself. He doesn't like opening up to other beings or approaching them. He spends most of his time stalking out his targets or finding potential candidates. In his spare time that he seems to always have, he spends time at the Cafe researching the CCG or humans. Not being able to attend high school left him curious, though he'd never enroll.
Though his boredom has started to wear him down on a mental level. Excusing it by saying 'he's a growing kid', Satoshi has been taking out more and more victims on his 'list'. There are fewer bad eggs on his list, as well.
History
- Satoshi was born into a small household. His mother, himself, and his younger brother, Shoda. His father died shortly after his mother gave birth to Shoda. Despite his annual asking, Satoshi's mother would refuse to tell him what happened. Their life was actually almost normal for most of his childhood. Their mother would hunt for them and keep them well-fed and well educated. She had worked as a school teacher up until she met her late husband, then they decided to start their own family.
One day after a hunt, when Satoshi was eight and Shoda was five, their mother returned from a hunt rather frazzled and paranoid. A few days later, she began talking about how they were going to move to a different ward. Being so young, they didn't understand. The following night, they fled into the night with nothing but the clothes on their backs and the money their father had left behind.
They didn't even make it to the train.
Everything happened so quickly. Satoshi hid in an alleyway with his brother while their mother fought off several CCG members. She killed most of them in a brilliant display of ricocheting crystallized RC Cells, totally annihilating the wave of assaultants. Though the attack left her weak and unable to continue, and the clean-up crew took her away, leaving the two behind. As she was being secured and taken away to God knows where, she dropped the bag she had been carrying without the CCG noticing. Miraculously, Satoshi and Shoda went unnoticed. Satoshi, being the older brother, knew that he had a job to do. He has raised his brother in the inner wards all the way up until recent years, when Shoda finally branched off with some girl he had met during his infiltration of the school near their house. Being the older brother, Satoshi let him keep the house and ended up ditching them. He eventually washed up in the seventeenth ward some time after.
Residence
- Currently 17th Ward
Last edited by Undead Puppeteer on Sun Dec 06, 2015 6:05 pm; edited 5 times in total
Hmm. Looks okay for the most part. I have to request that you ditch the gun though; there's sort of an entry level weaponry restriction and if dual kagune aren't allowed than neither is a ghoul with a purloined quinque. Plus guns are really, really thin on the ground in Japan so carrying one around would attract far too much attention for a ghoul. Kind of a shame if you were going where I think you were going with it but rules are rules.

Also,get rid of the reference to Uta. I know that it's not remotely important but there's the whole "as far as we're concerned the canon characters do not exist" rule to uphold.
It's no big deal, I'll send him down a different path if I need to. Otherwise that part of him can develop later down the road. And yes, the canon rule slipped right past me, sorry. Aside from that, I've removed the parts you suggested. Unless there are any other parts you'd like to point out, he's ready for another look-at. I'd like to get a solid character going, so don't be afraid to poke at him.
Hmm. All in all it looks pretty good to me. The amount of description you put into his clothes is a little odd though, mostly because it makes it sound like he's only got one outfit. The use of the term "academy" instead of "school" also rather odd.
The reason he has so much detail into this outfit is basically because he does only have that one outfit. He's unemployed and lives among the streets for the most part. It's dangerous, but that's the risk I'm willing to take with him, haha. Also, I'm just more accustomed to using the term 'academy' due to my activeness on a Soul Eater site, which is no big deal so I can adjust it.
Heh, I used to be part of a Soul Eater RP myself, although that was long enough ago that we said "Shibusen" instead of DWMA.

Okay, as far as I can see you're good to go. Sastoshi is now approved. Good luck with the RPing.
Similar topics
---
Permissions in this forum:
You
cannot
reply to topics in this forum